Archived Photos of Living Moths
Please see the page on submitting photos (link above at right). Photos that are identified here are retained for later use on pages like this one and on individual species pages. For photos to be usable here they must be capable of cropping and reduction to fit a square 225 x 225 pixels in size. A different size (300 x 225) will be used for some species that normally pose with the wings fully spread.

Photos are preferred of moths oriented head upward rather than at an angle. Normally, four photos, each by a different photographer, will be the limit per species. Exceptions might be made for species where there are many morphs, forms and aberrations. Better photos will replace those not as capable of helping to identify the species. There is no guarantee that a photo, once in the archive, will be retained permanently.
Copromorphoidea-Yponomeutoidea
Refereed by Terry Harrison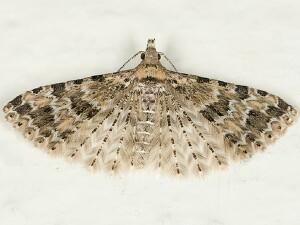 071800 –
2313
© John Davis
Six-plume Moth
Alucita montana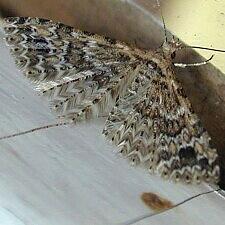 071875 –
2313.97
© Jason Dombroskie
Unidentified Alucita Moths
Alucita sp.
071900 –
2314
© Mark Dreiling
Peach Fruit Moth
Carposina sasakii
074350 –
2373
© Randy Hardy
Ypsolopha cockerella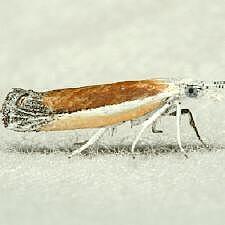 074375 –
2374
© Randy Hardy
Ypsolopha delicatella
074400 –
2375
© Carol Wolf
European Honeysuckle Moth
Ypsolopha dentella
074525 –
2380
© Marius V. Aurelian
Ypsolopha falciferella
074550 –
2381
© Mark Dreiling - DNA
Ypsolopha flavistrigella
074675 –
2386
© Aaron Schusteff
Ypsolopha maculatella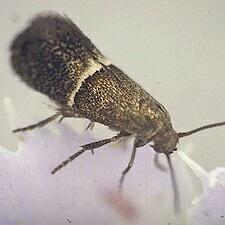 077500 –
2485.4
© Terry Harrison
Tinagma gaedikei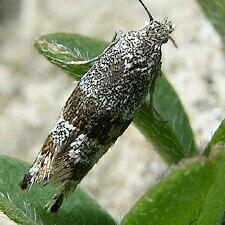 077625 –
2489.97
© Jason Dombroskie
Unidentified Tinagma Moths
Tinagma sp.
077700 –
2490.2
© John Davis [T]
Acrolepiopsis californica