Sesiidae
640067.00
–
2528
–
Vitacea admirandus
(Edwards, 1882)
Photographs are the copyrighted property of each photographer listed. Contact individual photographers for permission to use for any purpose.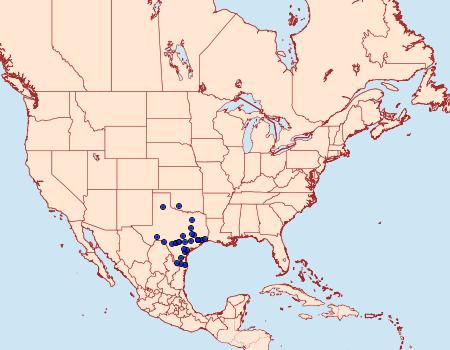 | | |
| --- | --- |
| Distribution: | Type locality: Texas |
| Similar Species: | |
| Taxonomic Notes: | Vitacea admirandus (Edwards, 1882), apparently misplaced in the genus Vitacea, is treated by some authors as a synonym of Tirista argentifrons Walker, [1856], type locality, Oaxaca, Mexico. DNA tested specimens identified as argentifrons from southern Mexico are well separated by barcode from specimens of admirandus from TX and OK. Genitalia comparisons have yet to be made. |
References
Barcode of Life Data System (BOLD) - Caution: Some specimens shown may not be sequenced. DNA barcode provides evidence of relatedness not proof of identification.
Edwards, H., 1882. Descriptions of new species of North American Heterocera. Papilio: The organ of the New York Entomological Club, 2(8): 54.
31mm – Mississippi Entomological Museum
m. – © Texas Lepidoptera Survey